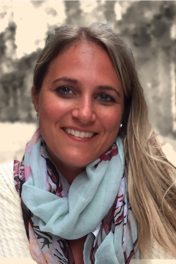 Personal Assistant to Prof. Dr. P. Calabrese
Phone
+41 (0)61 267 02 68
Fax
+41 (0)61 267 02 74
Research Interests: Neuropsychology, Neurodegenerative Diseases, Neuroscience

Francesca Rimoldi (born January 11, 1986) studied Clinic Psychology at the University Vita-Salute San Raffaele (Milan, Italy), where she obtained her Master's Degree in 2010. In addition, Francesca Rimoldi is also trained in cognitive behavioral therapy and she attended the Psychotherapist Specialization School "Cognitive Therapy Center" at Como (Italy) where she obtained the title of Psychotherapist in 2015.

After the Master Degree, she has worked for two years as a clinical psychologist on the HUCARE project ("Humanization Cancer Care"), providing support to oncologic patients hospitalized in the Saronno Hospital (Italy). After that, in 2012 she started a two years research focused on evaluating cognitive disorders and quality of life in patients with multiple sclerosis (research sponsored by Comobrain, an Italian Neuroscience Association).

In 2015 she has became a member of the Neuropsychology and Behavioral Neurology Workgroup at the University of Basel (Switzerland), with the qualification of Assistant to the Professor Dr. Pasquale Calabrese, who leads the research group. Her work is founded by the Swiss Multiple Sclerosis Society (SMSG). Francesca Rimoldi is interested in Neuropsychology and mainly into neuropsychological assessment and rehabilitation of cognitive disorders in neuropsychiatric patients (with a focus on SM).
Publications
1: Carota A, Rimoldi F, Calabrese P. Wernicke's aphasia and attempted suicide. Acta Neurol Belg. 2016 Mar 4. [Epub ahead of print] PubMed PMID: 26943459.